It's been a long week month season. Since the start of the year, I've been pressed, squeezed, and tested in ways I never imagined I would be, much less that I'd survive. I've been more excited and sure than ever; I've cried and doubted more than ever. Life has been increasingly wondrous and terrifying at the same time.
Perhaps the biggest suckerpunch of all came last week, when my husband was told his last day of work is May 31st. After 10 years of service, loyally shepherding the company and its people, his job is being "phased out" because his company is "restructuring," and there are no plans for him to "transition" to a new role. Which wouldn't call for scare quotes if they hadn't promoted the protege of the most money-hungry, least compassionate director in the company the same week.
Translation: Don't let the door hit you in the ass on the way out.
I got the news in the car headed for the Disney Store. (Their displays are always changing, they have shows to watch, and they don't care if you're not buying. It's like going to the playground without getting all that nature on you.)
My body autopiloted us to the mall. My brain seized up, whirring in processing mode, trying to comprehend what the news meant for us.
Both of us came from low-income families, and Lino worked sacrificially hard to get into this tax bracket. It's allowed me the freedom to be a housewife, to build businesses and write books, and to stay home with our daughter. It's been an honor and a privilege for us to be a single-income household.
But suddenly being a no-income household is uncharted territory, and my old scarcity demon seized its chance to claw its way up from the depths.
Strict budget. Meal planning. Cut the gym. EI. Get a real job. Daycares are full. Sell the car. Cancel life insurance. Get to the dentist and fill prescriptions before the benefits end. Cancel your anniversary.
The familiar litany of fear and control rolled through me as I got Mackenzie into the stroller. The parking lot was fill of warm sun and the sweet smell of spring, but they couldn't reach me. I was tumbling too fast down a darkening path, getting lost in thoughts I didn't want to think.
That's why I'm surprised I noticed it.
A tiny splash of fuchsia on the concrete by the automatic door into the mall.
I swerved sharply to look. And when I realized what it was, tears sprung into my eyes.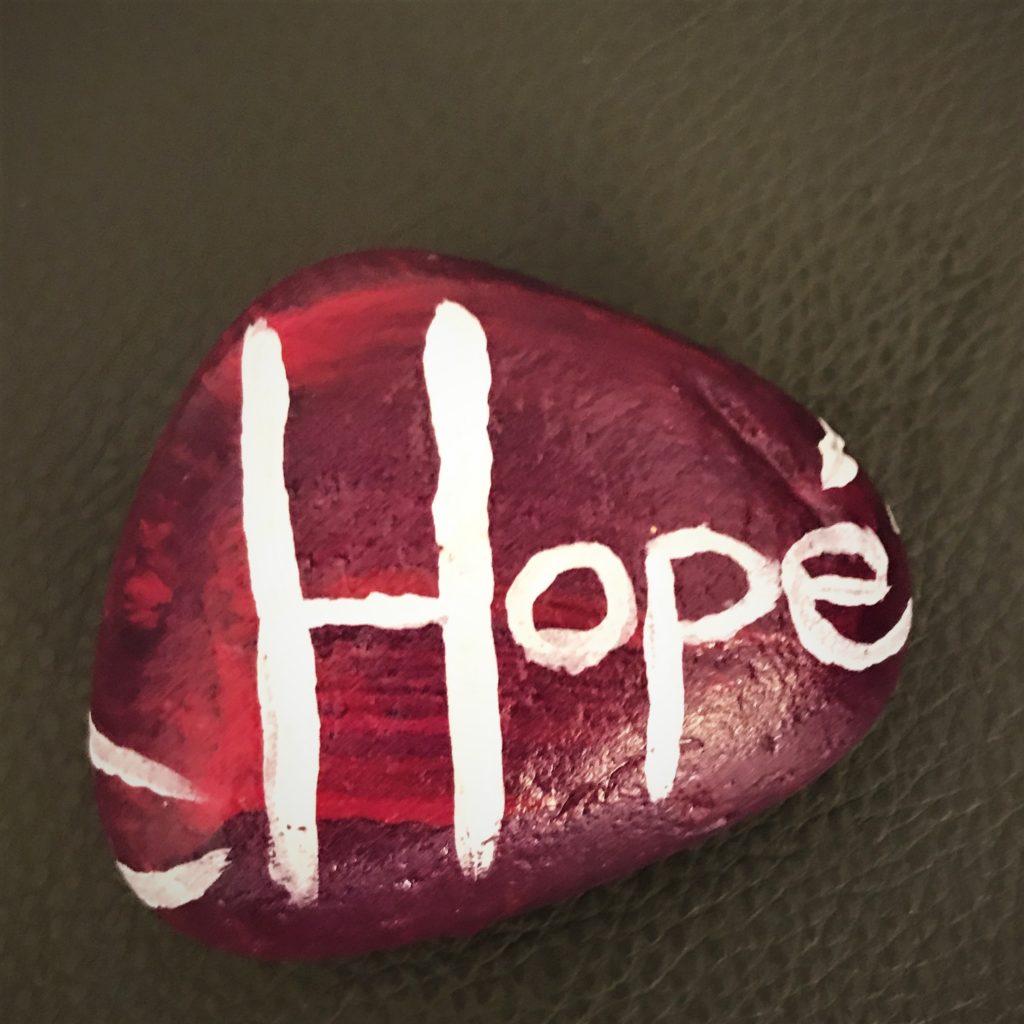 Hope.
One word. That's all. Painted on a stone lying right where I would see it. Dozens of people had passed it in the time it took us to cross the parking lot, but no one had noticed it. Except me.
I picked up the stone and closed my fingers around it like a lifeline, its reassuring weight in my palm also gently pushing down my rising anxiety.
Thank you, but no. You aren't needed. She is taken care of. She is mine. Stand down.
"What you find, Mommy?"
I opened my hand to show her.
"What is it?"
"It says, hope."
"Why?"
"God's trying to tell Mommy something."
I gave the stone another squeeze and tucked it into my pocket, then hit the button to open the door, leaving behind fear with every step.
There is hope, even here.