I put all my money in the meter for an hour and a half in the public parking lot, way more than was strictly necessary. If it took the dentist longer than that to file down one pointy filling, I would definitely have to switch docs.
When my "you have 10 minutes until your meter expires" alarm went off, I asked the receptionist if everything was okay. She hustled away, then back, then speed-walked me into a chair at the back.
In and out in under 3 minutes after waiting for over an hour past my appointment time.
Five minutes left on the meter.
I did my own speed walk through the winding corridors of the mall, sprinting across the street to my car. And as I passed the huge SUV parked next to me, I saw it: yellow paper folded into my windshield wipers.
A parking ticket.
I looked down through the glass and saw that my dash was empty. I must have left the car unlocked and someone took it. Frustrating, but not unusual downtown.
I swore not quite under my breath and snatched up the ticket, already planning to fight it, even without the proof of the missing receipt, boiling with righteous indignation.
I unfolded the paper and, instead of a list of charges, it said: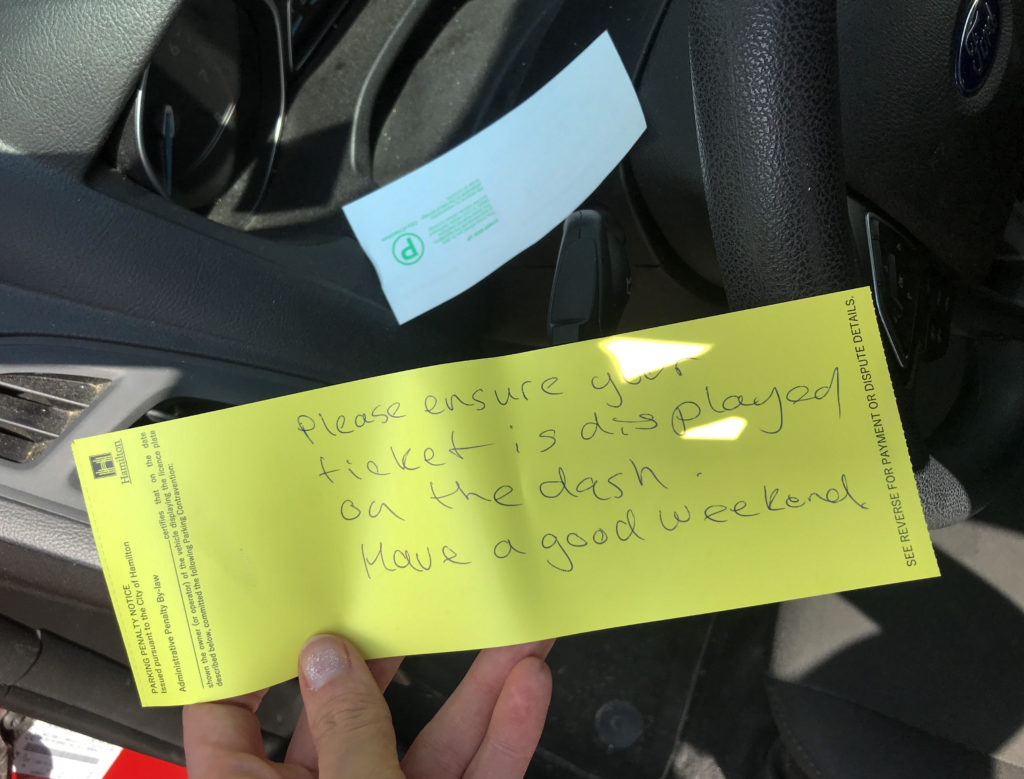 "Please ensure your ticket is displayed on the dash. Have a good weekend."
That's when I noticed the white paper lazing upside down on the steering column. My heart tied itself in a knot. It must have slipped off when I shut the door earlier.
I reached out and turned it over.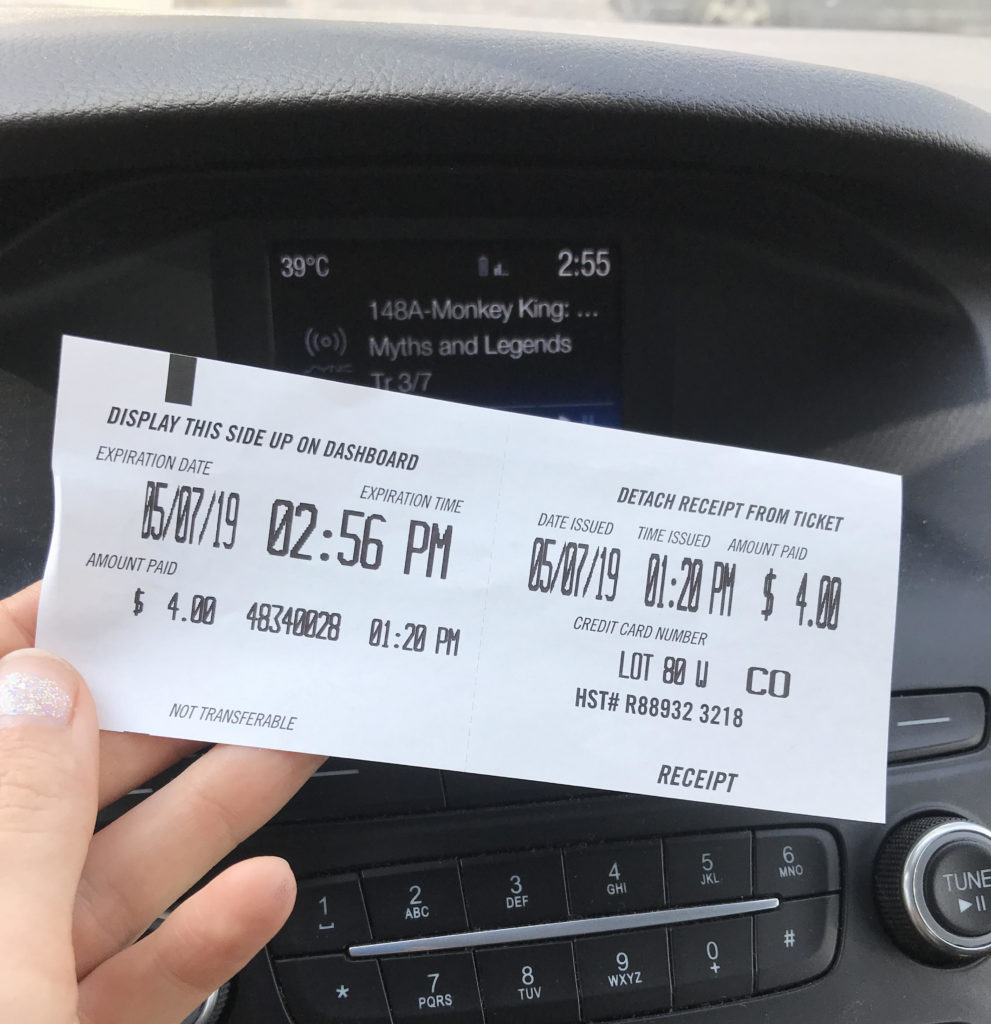 One minute to spare.
---
This happened last week, and I can't stop thinking about it. I even keep the ticket up on the kitchen shelf where I can remember it as an object lesson.
Parking enforcement is srsbizns in downtown Hamilton. I've been ticketed for parking within 30cm of a driveway and for being parked too long at the curb despite having moved my car two blocks because the chalk on my tire ended up in the same position as it started.
Ruth. Less.
But that day? The day when I was whizzing through task after task–both for the big move and my nascent freelance biz–and was frazzled after being patient too long with an overflowing dentist's office?
That day, I got mercy.
When I didn't deserve it. When it was my fault for breaking the rules. When it would've been a poetically just cap to my hectic, frustrating day.
Because that's when mercy matters: when we least deserve it.
Not getting a parking ticket is a small thing. But the relief I felt, the rush of endorphins when I realized the parking officer had every right to punish me and chose not to–that mattered. It straightened my perspective. It reminded me to hold on a little looser, to breathe a little deeper–to remember that love shows up in the strangest places but never fails to change things.
It also reminded me to make sure my dang receipt is on the dash next time. Geez.