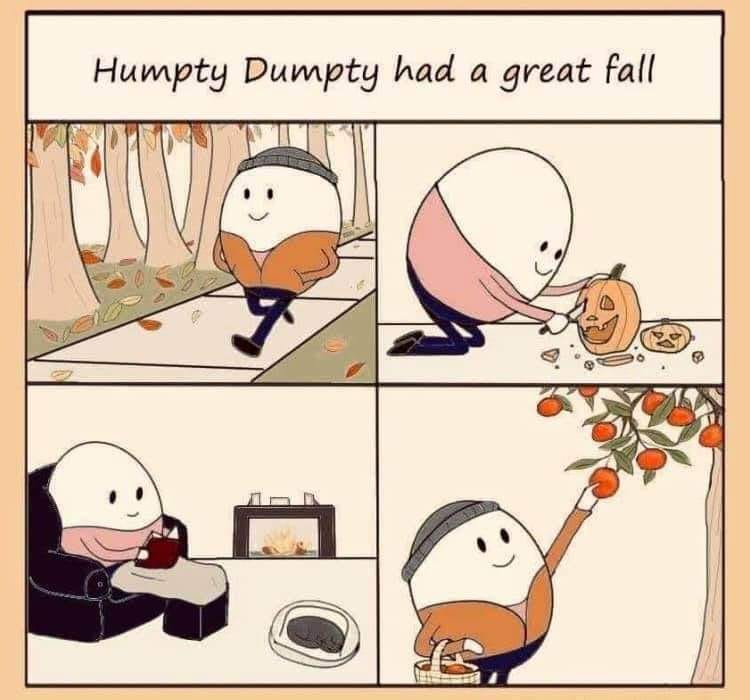 This fall is different.
I can feel it in the sharp slice of the air, smell it in the not-yet-moldering carpet of leaves, taste it in the vanilla caramel pastries. The sound of a lonely, optimistic ice cream truck trawling the neighborhood evokes a smile rather than a sigh.
Years ago, I discovered that my energy and creativity ebb and flow with the seasons. Maximum productivity in summer; gradual slowing in fall; hibernation in winter; reemerging in spring. One season feeds the next, my internal calendar matching up with nature's.
Once I noticed this innate rhythm, I intentionally wove it into my work. I wrote furiously in summer, launched and scheduled in fall, dreamed in winter, then spooled up again in spring. By knowing when I had energy (and when I didn't), I could work with my natural flow. I could stop fighting myself and have ease all year instead.
And it felt so good.
Unfortunately, boss-level productivity was not the only side effect of this realization.
Rather than enjoying the fullness of each season, I started to dread fall because I knew what came after it.
Winter, with its hibernative atmosphere, not only put my creative energy to bed, but tucked it in with a smothering blanket of depression. Grey skies and bitter winds followed me everywhere. I often wouldn't leave the house for a week at a time, sleeping to avoid thinking about how little I was accomplishing, holding on to hope as I crossed days off the calendar until spring when I could be reborn.
Knowing it was coming didn't help. Predictability isn't so great when you know you're about to go down for six months (yay, Canada).
So for the last several years, I've hated fall. Not because of anything it did to me personally, but because of what it heralded.
But more than leaves change when you have a kid.
Since Mackenzie came along, I've had to do things differently. Basic stuff like showering and grocery shopping, sure, but also creative work. My desire to write raised its head again long before I found my feet as a SAHM. At first, I didn't know what to do with it. My preferred way of working—six uninterrupted hours of butt-in-seat, Monday to Friday—didn't mesh with baby life.
It took me a year to accept that, if I wanted to write, I'd have to be flexible. (All the Ones in the house said, "OH NO.") I started writing in smaller chunks, experimenting with different times of day, leaving myself notes, not trying to write a novel again (yet). Piece by piece over the last year, a different method of working has fallen into place. I discovered I actually could adapt to a new flow; I even realized I was okay with having no flow at all.
And, because everything is connected, once I embraced that, my attitude towards winter changed.
Forcing myself to bend in new ways to continue writing opened up the possibility that I could still work in the winter. Despite the low energy, despite the oppressive weather, despite my self. If I could completely upend what I thought I needed to be productive in spring and summer, what else could be transformed come the winter?
Suddenly, the season of hibernation held no anxiety for me.
Sure, I still hate being cold and the snow can go back to the Arctic thankyouverymuch, but when I look ahead, down the barrel of another Canadian winter, I'm not worried about it. I may still feel like a grouchy, sleepy bear, but writing is possible. Living is possible. I know that I can do it. Even if it's slow.
Which brings us back to this fall.
I knew I was free from the cycle of dread when I walked outside on a cool morning in early September, filled my lungs with the sweet, sad air and said, "Man, I wish we could go apple picking." I was even cheerful about getting out the sweaters and putting away the shorts.
Who even am I.
Because winter doesn't equate death for me anymore, I can experience the wonder of this season. The escarpment is blazing beautiful with the last fireworks of maples and elms. Spicy tea and coffee warm me inside and out. A tinge of melancholy in the air reminds me to be present, for everything in this world is passing away—and will be reborn.
All this to say, I'm enjoying that I'm enjoying fall.
Finally.